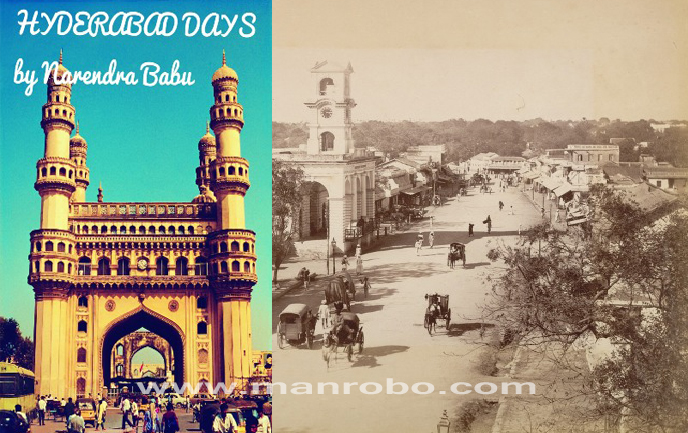 Charminar ("Four Minarets"), constructed in 1591, is a monument and mosque located in Hyderabad, Telangana, India.
Charminar is a historical place with a mosque on the top floor since 425 years and also famous for its surrounding markets. It is one of the tourist attraction in Hyderabad. Bangles can be found at cheaper rate. Many local festivals are celebrated grandly in charminar like Ramzaan and other festivals.
In the Surrounding area Marigalli Lived Azhar a 25-year-old handsome boy , he was a bundle of energy, but only loitered around with friends and never had intention to take on the responsibility of helping his parents in daily life. Azhars father Nawazuddin in his 50's had a fruit shop near the monument, even his earnings were limited to running the house and nothing else. Fatima his mother was religious lady involving in household activities and devoted 5 times in Namaz (Prayers).
Azhars looks steered girls in his vicinity develop an Infatuation towards him, he was proud of his looks and his dress attire was a talk of his vicinity. Nawazuddin often pressurized him to accompany him to his fruit business or forced him to look for a job. Azhar was an Intermediate drop out and felt working for odd jobs could damage his prestige. Finally, up on his father's repeated pressure, he started a business in selling and buying of two-wheelers at his residence, the start was a dull and gradually picked up.
One fine day his eyes fell on a girl, but due to her religious attire Burqa he couldn't identify her, but through her eyes, he knew she was ravishing. His concentration on business reduced and his stare at the mysterious girl increased.
Finally, after severe research on the girl, he found the details of her, She was Shabana daughter of Rouf a Cleric in the nearby mosque at Marigalli . Shabana was in enrolled in Vijaya Commerce Degree College at Begumpet, Hyderabad and regularly passed by Azhars Shop to reach nearby bus stop to commute to college. On daily basis, Azhar dressed up in fashionable attire stood at his shop to have a glimpse of her keeping up to the time of her arrival. As days passed by Azhar on a bike started to follow her up to bus stop and gradually his following led to her reciprocate his intention and took the veil of her face. Azhar was smitten by her ravishing beauty and her silky hair coming between her eyes.
Gradually their relationship turned in to love, Shabana citing a reason used to daily visit bangle store in front of Charminar, but her intention was to meet Azhar.
Azhar concentration on Business was less and more on Shabana , with all his earnings he purchased her different fashionable attire and used to gaze at her. Their meetings often took place on the elevated heights of Charminar, Azhar humorous attitude and his handsome looks totally forced to give her heart to him.
Azhar used to go insane if she did not make up for a day, he waited for her call eagerly.
But to his dismay, their togetherness was noticed by Mohsin their neighbor who complained about them to Rouf. Rouf being a respected individual in society being a Cleric in the nearby mosque could not digest the news.
Rouf enquired about her meeting a boy, but she stayed tight-lipped. Rouf Slapped her in anguish "You have spoilt our reputation in the society, your education and outings are henceforth stopped and be a helping hand to your mother" saying he pushed her towards his wife Shazia.
Here Azhar was totally frustrated without seeing her he visited the mosque met Rouf and introduced him. Rouf with anger " Arey how much do you earn and what is your qualification to eye my girl, henceforth if you trouble my daughter I will complain to the police" stating he walked away from there.
Azhars business declined, and money lenders from he borrowed loans pressurized him , finally he had to close down the business and daily he used to sit in front of Shabanas house to have a glimpse of her, but of no avail.
Finally, he learned Shabana was sent to her uncle's house the whereabouts not known.
Azhar met Rouf one day and requested him to give time to prove himself and pleaded to give him the whereabouts of Shabana, but of no avail.
Azhar turned psychologically ill, he never ate on time and his shabby looks left his parents shed tears on his act. Nawazuddin one day met his son " Azhar money is everything beta, I have contacted Rasool uncle he has a business in Riyadh, Saudi Arabia, he will employ you there work hard and prove yourself" saying he patted at his back.
Azhar with no option agreed to his father and decided to go to Saudi Arabia, within a month he got his new passport and within no time even his visa was stamped and finally taking the blessings of his parents at the airport. With tears in his eyes on losing Shabana he collected his baggage and left for the Saudi Airlines Counter.
Upon Reaching Riyadh, Saudi Arabia he was received by Mohsin's relatives Akhtar who took him to his shop that deals with Four Wheeler Spare Parts and placed him there and entrusted the nature of work.
As days passed by Azhars concentration grew on work and less on Shabhana, spoke to his parents of his well being on regular basis and slowly sent them his hard earned money for household expenses. A year after Azhar was even promoted and his Salary increased seeing his honest and hard work in promoting the business. Azhar was self-sufficient with money but there was a little discomfort in him for missing Shabana. He mustered courage and once spoke to his father Nawazuddin about Shabana. But Nawazudding was negative in his reply.
Azhar tried to forget the incident but couldn't. Shabanas beautiful face was front of him. He gathered courage and tried to concentrate on his work.
His contract of 2 years ended and the Manager Akhtar allowed him to travel to India for 30 days. Azhars joy knew no bounds he collected his luggage and left for Airport and boarding Flight to Hyderabad was received by his Parents Nawazuddin and mother Fatima upon landing who was in tears seeing the success of their son.
Azhar never troubled of asking about Shabana from his parents, He stayed Silent and left Airport to his house.
Upon visiting his house he received a Call from his friend Razack to visit Charminar to attend a Lunch meeting. Azhar in a tired tone " Arey I just arrived from Riyadh , let me meet you all tomorrow" but Razack and his friends were hesitant.
Azhar accepted their offer and requested for 2 hours time, finally after freshening up and dressed him fashionable attire he left for Charminar , but could not find them , even after calling them there was no reply. As Azhar turned around he was shocked and stunned on seeing Shabana with tears of joy smiling towards him.
On the other side, his friends Razack and parents of Azhar and Shabana were seen smiling. Azhar was surprised at such a rousing reception and the gift of love, he hugged his friends and took blessings of Rouf and his parents and went running towards Shabana who was waiting for him with open arms.
YOU CAN CONQUER LOVE BUT CONQUER YOURSELF AUTOMATICALLY EVERYTHING IS YOURS.
ప్రముఖరచయిత విజయార్కె రచనల కోసం ఇక్కడ క్లిక్ చేయండి.